NO On Props 124, 125 & 126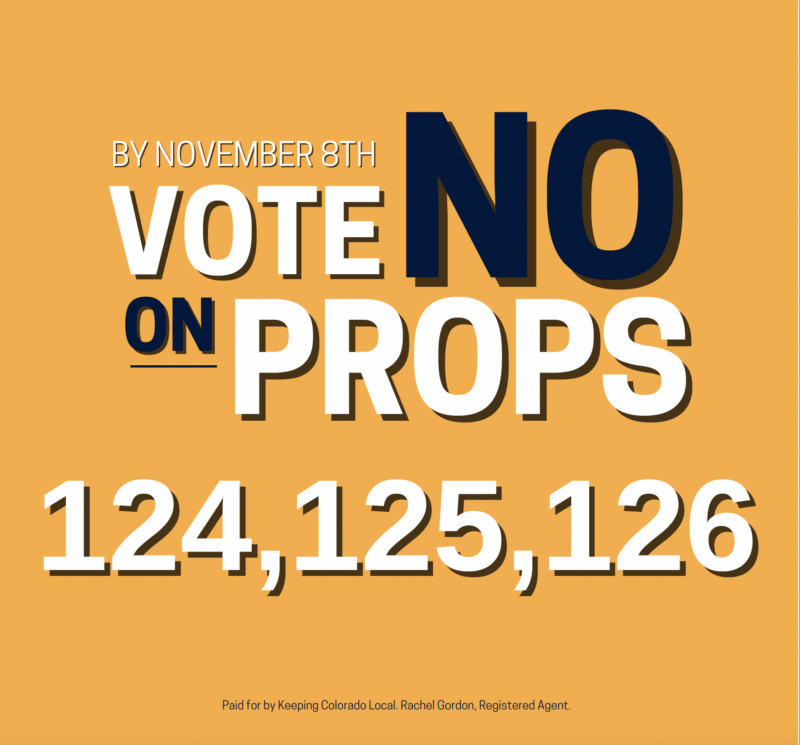 Vote NO on props 124, 125, & 126 & here's why:
What are props 124, 125, & 126?
Proposition 124: Currently, retail liquor store licensees can open a maximum of three liquor stores in Colorado, with state law providing for up to four locations beginning in 2027. As of 2021, Colorado had 1,592 licensed retail liquor stores.[1]
Proposition 124 would incrementally increase the number of retail liquor store licenses an individual may own or hold a share in, as follows:[2]
up to eight licenses by December 31, 2026;
up to 13 licenses by December 31, 2031;
up to 20 licenses by December 31, 2036; and
an unlimited number of licenses on or after January 1, 2037
Proposition 125: Would allow grocery stores and convenient stores to sell wine. "The state has about 1,600 liquor stores. Many of these are small, locally owned and independently operated. Half of them are woman owned and almost two thirds of owners use English as a second language. These smaller liquor stores oppose wine in supermarkets. They stand to lose a significant portion of their wine business to grocery stores, impacting their bottom line."
Proposition 126: Proposition 126 would allow alcohol retailers and liquor-licensed businesses, such as grocery stores, convenience stores, liquor stores, bars, and restaurants, to offer third-party delivery services for alcohol deliveries beginning March 1, 2023.
There are 1,650+ independent liquor stores in Colorado and these initiatives put more than 10,000 thousand jobs at risk, leading to layoffs across the industry.
Convenience has consequences and comes at a steep cost to Colorado. Out-of-state corporations like Doordash, Safeway and Amazon have no regard for Colorado's small businesses and the local economy. They are funding this campaign with huge out-of-state donations so that they can crush competition and put locally owned liquor stores out of business.
We are encouraging people to vote NO/AGAINST on Propositions #124, 125 & 126.
These measures go against Colorado values of independence and Keeping Colorado Local. Whether it is the decline of craft brewers, wineries or distillers, or the potential loss of thousands of jobs, these companies don't have Colorado's best interests in mind.
For the past 14 years, each legislative session has prompted clashes between different segments of the liquor industry, fights that frequently become the noisiest at the state Capitol.
Most often, those promoting efforts to expand alcohol sales have been defeated.
The three initiatives appearing on ballots in November not only are straining emotions between liquor store owners and grocery chains — and pitting one giant national liquor store chain against most of the rest of the state — but are drawing contributions in totals that dwarf what most statewide candidates are raising.
The main battle, and the one attracting the most money, is the combined effort to pass Proposition 125, which would allow all grocery and convenience stores to sell wine, and Proposition 126, which would permit third-party delivery of alcoholic beverages.
Another effort, Proposition 124, is an effort to allow liquor stores to vastly increase their number of locations in Colorado.
Owners of locally owned liquor stores say the initiatives present an existential crisis. After those stores saw drops of 15% to 30% in their beer sales when grocers and convenience stores got the ability, through legislation, to sell full-strength beer in 2019, they worry that the loss of a substantial amount of wine sales could push stores to close.
"It is a David-versus-Goliath situation. It is not a consumer-led effort," said Carolyn Joy, owner of Joy Wine & Spirits in Denver and a member of the Colorado Licensed Beverage Association board of directors. "This is about out-of-state people trying to impose all the changes they've made in other states to make us like other states. It's greedy just to keep wanting more and more money."
Proponents of grocery wine sales dismiss the store-closing warnings as empty rhetoric that liquor retailers used in 2016 when a new law allowed grocery beer sales — rhetoric that never played out in fact, according to state numbers. And they say that in addition to providing consumers greater convenience, such as the alcohol delivery they've come to expect since the start of the pandemic, it will benefit some local businesses, as evidenced by the support the campaign has from restaurants and some local wineries.
"I don't think it's accurate to paint this as national versus local, because there are some local communities that will really benefit from this," said Michelle Lyng, spokesperson for Wine in Grocery Stores. "The Colorado experience of beer in grocery stores worked out really well for everybody. There are more places to buy beer … We just think there's room for everyone in this ecosystem.